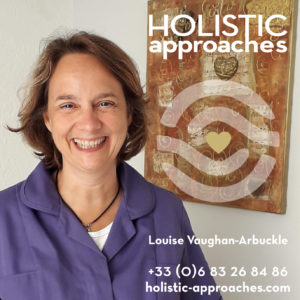 As  an holistic therapist the main tools that I use are reflexology, massage, tuning fork therapy and healing.
I trained in Massage in London in 1989 and broadened my skills to include Reflexology some 2 years later.  I found that Reflexology worked on many levels, from deep inside the body towards the outside as well as the mind and spirit.  Together with these and other skills clients receive comprehensive and effective support.
I spent over 8 years working in Paris, whilst there I chose to specialise as a Maternity Reflexologist (2005) and developed a significant practice in this area.
Healing with sound has long been an interest of mine and I've found that working with tuning forks is a very effective medium on all levels.
Even though I'm an experienced therapist, I'm a firm believer in the importance of continuing professional (and personal) development. I regularly participate in courses to further develop my skills, knowledge and understanding of healing, the human body and its condition. I also give lectures, talks and workshops within my profession and to special interest groups.
Training includes:
Diploma of Healthcare and Relaxation with Massage, Churchill Centre, London
ITEC Anatomy, Relaxation and Massage Diploma
Reflexology, Tisserand Institute, London
International Institute of Reflexology, Bristol
Back Massage Master class, Raworth Centre, Dorking
Polarity Therapy (foundation course)
Maternity Reflexology, UK
The Healing Trust
Foresight Study Programme
Angelic Reiki
Sound Healing using tuning forks – Suara Sound, Cornwall
Providing a friendly, professional, confidential, caring and flexible service.