Maternity Reflexology
Maternity Reflexology covers all aspects of pregnancy from pre-conception to postnatal and the new born baby. The general principles of Maternity Reflexology are the same as Reflexology, though with the adaptation of certain techniques during pregnancy.  I completed my specialist Maternity Reflexology training in 2005 and have since worked with many pregnant women and those looking to fall pregnant .
Fertility
For those looking to conceive, it's a good idea to make sure that you're in the best possible health. Sub-fertility issues can affect both men and women, though it's most often the women who come to see me, I do work with men too. I work most often when where there is no medical reason for not falling pregnant.
Reflexology can help both of you in many different ways including both physically and emotionally. If you've been trying for some time to fall pregnant and are finding the whole thing overwhelming and stressful, Reflexology can be a great way to help and support you.
If you're planning for pregnancy, ideally take 6 to 12 months to prepare yourselves. I realise that sounds like a long time, however as the sperm maturation cycle takes 2 1/2 to 3 months then by allowing 6 months the sperm will be in the best possible state. For women who've been using hormonal contraceptive protection, it can (though not always) take several months for their cycles to normalise.
Take time to put into place a healthy lifestyle, reducing stress, eating well etc. and in doing so giving yourselves the best possible chance of a successful pregnancy.
Besides reflexology I work with a number of tools that I've gained over the years and although I can't guarantee that you will fall pregnant I will do everything I can to help you to achieve your goal.
Pregnancy                                                                              
Reflexology can be a great support for you throughout your pregnancy both physically and emotionally. The baby(ies) too can feel the treatment and receives the benefit of it.  So good for both of you!
With the specialist training and years of experience that I have, I work from conception all the way through pregnancy to term.
Reflexology can be helpful for the 'side effects' of pregnancy including morning sickness, puffy ankles, constipation and much more.
There is nothing better than receiving reflexology, being heard and supported throughout your pregnancy by an experienced reflexologist.
Postnatal
Once your baby has arrived, it may take a while for life to settle into the new routine. Moving from pregnant to new mother can have it's learning curves. Reflexology can be supportive for you in this change of role and of the various situations that may arise.
Baby Reflexology
This is a helpful tool that you can use from birth.
Baby reflexology is ideal for calming your baby and increasing the bond between the two of you. You can help your baby with wind, positing, constipation, teething etc.
I hold workshops for small groups showing you how to give your baby reflexology.  Do give me a call or email me for further information.
Registered with and trained by Susanne Enzer, Maternity Reflexology http://maternity-reflexology.com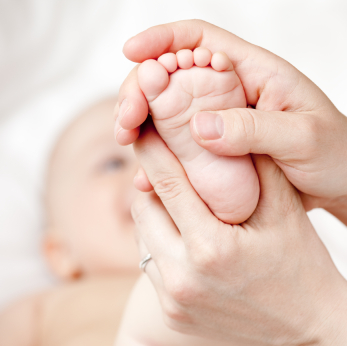 Baby reflexology